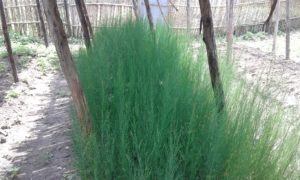 The Federal Ministry for Economic Cooperation and Development (BMZ) funded the International Agricultural Research for Development to provide a strategic instrument for enhancing research in organizational, methodological and technical innovations concerning sustainable agricultural development, focusing on the impact of this research on the poor population in developing countries. SOS Rwanda received fund to help the government of Rwanda to protect the environment using agroforestry and fruits for reducing malnutrition among poor families in Rwanda. RCID carried out the preparation and producing 50,000 seedling of nurseries agroforestry trees and fruits, planting and distribution communities and beneficiaries of BMZ / SOS in the three sectors (Gatsata, Kacyiru and Kinyinya), district of Gasabo, Kigali City Rwanda:
Agroforestry and Ornamental Trees
Grevellea Robusta
Spathodea Componulata
Casualina Equisetifolia
Croton Megalocarpus
Fruit trees.
Passiflora Edulis  Solanum Betaceum (Tamolius).
Results:
The planting of seedlings in the areas of Gatsata, Kinyinya, Nduba, Kacyiru has enabled activities of environmental restoration, protection of natural resources;
Women and young people have acquired technical and practical knowledge in the nursery and are able to autonomously lead the production of seedlings;
The installation of nurseries in the 3 sites to reinforce the skills, abilities and practical and theoretical capacities of the beneficiaries of the SOS project for the creation and management of a nursery site in their sector.
Indirectly the population and local authorities received advice during the community works to master the techniques of management of village nurseries and production of useful plants and control the techniques of maintenance and establishment of plantations.
Client: SOS Villages d'Enfants Rwanda
Funded: Federal Ministry for Economic Cooperation and Development (BMZ)
 Country: Rwanda
Date: August 2015 – March 2016
Please follow and like us: